Chairside Restoration of Esthetic Ceramics
Same Day All-Ceramic Crowns & Veneers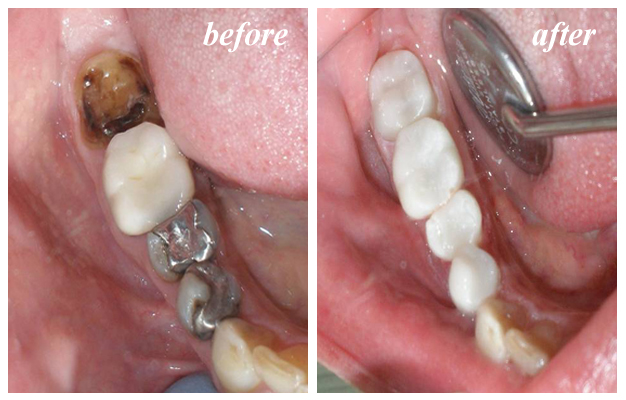 Chairside Economical Restoration of Esthetic Ceramics, or CEREC©, allows the restoration of damaged teeth with amazing technology and even more amazing results. Crowns, inlays, onlays, and veneers are applied to the teeth using metal-free biocompatible materials that are shade matched to your teeth. Using cad/cam technology to image your tooth eliminates the need for impressions, making your visit quick and enjoyable. In fact, most treatments can be completed in a single visit, usually in about an hour!
CEREC Crowns, Inlays, Onlays and Veneers are custom-designed and delivered the same day.
Dental Crowns are necessary to reinforce a tooth if there is damage or decay present. A crown will fit over the entire tooth and can typically last from anywhere between 10-15 years with proper care. The lifespan of a crown can be lengthened with gentle care by the patient.
Veneers are used for cosmetic reasons, a tooth can be misshaped, or looks crooked. The Veneer is a thin shell bonded to the existing tooth to create a beautiful smile.
Inlays fit inside the tooth and are used to replace a small amount of tooth structure that has been lost to decay, instead of using a filling. The inlay is bonded to the tooth, and the bonding process may actually improve the strength of the tooth.
Onlays also fit inside the tooth but also extends over one or more cusp tips. The onlay is bonded to the tooth, and the bonding process may actually improve the strength of the tooth. Rather than destroy a large amount of tooth for a crown, another treatment option could be to use an onlay.
Traditionally this style of tooth restoration takes 2 or more weeks and two patient visits to complete, but with the CEREC system tooth restorations can be completed in about an hour.
Tooth Preparation – Tooth decay and/or previous metal dental work is removed from the tooth.
The Optical "Impression" – The CEREC camera is placed over the tooth to capture an "impression" of the reflective powdered tooth.
The Image – The image is then processed by the computer to create a 3D model of the tooth, which is used to create the new restoration.
The Design – The restoration is then designed on the CEREC computer and the shape of the new restoration is refined.
The Computerized "Pattern" – The computer generates a pattern that contains all of the data needed to create the restoration, and the information is transferred to the Milling Chamber for processing.
Choosing the Color – A porcelain blank is selected in a color that closely resembles the color of the existing tooth, and then the blank is placed into the Milling Chamber.
The Milling Chamber – The Milling Chamber mills the porcelain blank, which takes about 10-15 minutes in most cases.
Final Fit – The milled porcelain blank is then placed into the prepared tooth to check the accuracy of the fit.

Is There Something

We Can Do For You?